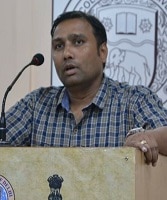 Submitted By:
Dr. Ajeet Jaiswal 
Associate Professor, Department of Epidemiology and Public Health, Central University of Tamil Nadu, Thiruvarur, Tamil Nadu, India
Article
In our country, local medievalism and multinational modernism exist side by side, so the research on the incidence, prevalence, and prevention will have to address the needs in terms of future occupational health policy in India. The research approaches need to balance between understanding the modern industrial exposures and health risks of traditional sectors like Textile and small scale industries (Berry and Molyneux, 1991). So far not much attention has been drawn to the plight of Textile Workers and those working in several unorganized sectors, being exposed to extremely dusty environmental conditions, chemical and mechanical hazards; much attention is needed to reduce the accidents and diseases in these groups (Chaudhuri, 2000). To achieve that there was a dire need to access the cut-off duration beyond which exposure to textile dust becomes detrimental to worker's health. Despite proper evidence from epidemiological data or information systems, meagre information was available from small-scale and community-based studies, which may be used for the exploratory understanding of the occupation health situation in India. Humans are exposed, either environmentally or occupationally, to countless chemical agents/ particles, which may cause a variety of health hazards including cancer and genetic diseases. Among the major threat, workplace dust like textile (cotton, silk, thread, carpet), was the key contributing factor causing more adverse effects with a higher magnitude of exposure level. In spite of the great economic and commercial significance of textile, systematic evaluation of toxicological and occupational health risk studies had not been made proportionately. Dust prevalent in the air during the processing of raw textile may have a hazardous effect on the exposed workers (Bhatt, 2000). The dust concentration, composition, and size to directly proportional to its toxicity. It is estimated that a maximum number of people in the textile manufacturing industries are exposed to dust generated in their units. Textile dust is a complex mixture of many organic and inorganic compounds, which interact with other carcinogenic factors to express their effects.
The aim of the present study is to evaluate the occupational health and respiratory functions of textile workers. In the present study, an attempt has been made to study occupational health and an influence on lung functions among textile workers and to compare their health profile with the non-textile workers. A total number of 463 adult workers working in different sectors in seventeen different factories and 457 non-workers of the same area were studied; Statistical analyses like t- test and odds ratio was done to determine the significant difference between textile workers and Control Subjects. The respiratory symptoms were found higher in Exposed Textile Workers as compared to control subjects. The multivariate analysis showed that the Period of exposure, Smoking habits(OR=9.54), Wool/synthetic (OR=19.2) and dye sector, Scouring (OR=11.0) and spinning sector (OR=4.78), poor ventilation (OR=17.1), Living in Kaccha (Muddy) house (OR=7.65), with the dry floor, with less than two rooms (OR=2.59), with dirty surrounding (OR=3.39), using smoke emitting chullah (stoves) (OR=8.19) especially Cowdung/Firewood were found to be most detrimental factors of cardiorespiratory function among Textile Workers. Key Words: Occupational health, textile workers, respiratory functions.
Relevant Links:
https://www.academia.edu/29455354/Health_conditions_of_the_Textiles_Workers_and_their_association_with_breathing_condition
https://cutn.ac.in/wp-content/uploads/2020/09/Dr_Ajeet_jaiswal_CV_EPH_16092020.pdf
___________________________________________________________________
Disclaimer: Any opinions and views expressed in this submission are the opinions and views of the person who has submitted the article, and are not the views of or endorsed by the Healthcare and Biological Sciences Research Association (HBSRA). The accuracy of the content should not be relied upon and should be independently verified with primary sources of information. The person submitting the article does not necessarily be the author of the article. The Healthcare and Biological Sciences Research Association (HBSRA) shall not be liable for any losses, actions, claims, proceedings, demands, costs, expenses, damages, and other liabilities whatsoever or howsoever caused arising directly or indirectly in connection with, about, or arising out of the use of the content. For any issues or any reporting, write an email to convener@eurasiaresearch.info
___________________________________________________________________