LIST OF KEYNOTES
Eurasia Research Conferences are graced by eminent speakers. Following is a brief list of a few of our esteemed invited speakers who have honored our conferences with their consent and/or attendance as keynote speakers. We are thankful for their patronage and intellectual contribution to our International Conferences.
Dr. Stalis Norma Ethica, M.Si.
Magister Program of Clinical Laboratory Science Universitas Muhammadiyah Semarang Semarang, Central Java, Indonesia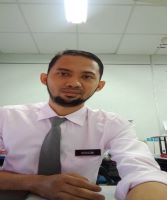 Dr. Mohd Norazmi bin Nordin
Ph.D., Lecturer, Pusat Kajian Pendidikan dan Kesejahteraan Komuniti, Fakulti Pendidikan, Universiti Kebangsaan Malaysia (The National University of Malaysia), Bangi, Selangor, Malaysia

Thillainathan Sathaananthan
Senior Lecturer attached to Department of Medical Education & Research, Faculty of Health-Care Sciences (FHCS), Eastern University, Sri Lanka
Dr. Ma. Cecilia O. Martinez
Associate Professor 2 at Pamantasan ng Lungsod ng Maynila (University of the City of Manila)
Dr. Reeti Debnath
PGDHHM, M.Phil., PhD, School of Health Sciences, NSHM, Knowledge Campus, affiliated to Maulana Abul Kalam Azad University of Technology, India.
Nabarun Ghosh
PhD, MAAAAI, Sigma Xi, Life, Earth and Environmental Sciences, West Texas A&M University, Canyon, Texas
Dr. Jennifer Paule Reyes
Associate Professor II, Full Time Faculty – College of Nursing, University of the City of Manila, Manila, Philippines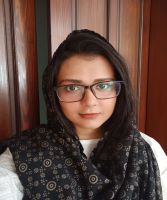 Dr. Siddrah Irfan
National University of Science and Technology (NUST), Islamabad, Pakistan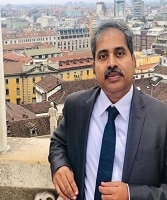 Dr. MDP RAJU
Professor and Head of the Department, Department of Surgery, SSRAMC Ayurvedic Medical College, Inchal, Karnataka, India
Dr. Priscilla Das
Faculty  of  Medicine,  SEGi  University,  No.  9,  Jalan  Teknologi,  Taman  Sains  Selangor,  Kota  Damansara, Petaling Jaya, Selangor, Malaysia
Iolanda Costa Galinha
Associate Professor, Universidade Autónoma de Lisboa, Psychology Department, CIP – Centro de Investigação em Psicologia, UAL, Portugal
Dr. Anuli Njoku, DrPH, MPH
Associate Professor, Southern Connecticut State University, USA
Dr Agnieszka Ilendo-Milewska
Director of the Faculty of Psychology, Private University in Bialystok, Poland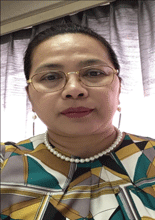 Dr. Merissa Braza Ocampo
Lecturer, Fukushima Gakuin College, Department of Early Education, Tohoku, JAPAN, Field: Positive Psychology, Psycholinguistic, TESOL
Dr. W. G. Samanthi Konarasinghe
Doctor of Philosophy (PhD), Institution: PGIA, University of Peradeniya, Sri Lanka
Nuanpan Lawson
Department of Applied Statistics, Faculty of Applied Science, King Mongkut's University of Technology North Bangkok, Bangkok, Thailand
Assoc. Prof. Dr. Suparman
Assoc. Professor of Applied Mathematics, Ahmad Dahlan University, Yogyakarta, Indonesia
Bogusława Gosiewska-Turek MA
PhD, English Language and Literature, Opole University, Language editor in Journal of Education Culture and Society, Wrocław, and Androgogy, Poland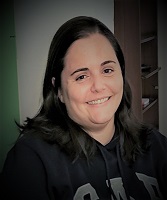 Ana Sofia Saldanha
Translator (English and Spanish into Portuguese), Lecturer, Mentor (Member of the EMCC and Associate Board Member IMA), Lisbon, Portugal
Dr. Abdulrasheed Olatunji Abdussalam
Senior Lecturer, Islamic University of Perlis, Malaysia
Kristina Francis
Lecturer, Department of Language and Linguistics, Faculty of Arts & Social Science, Universiti Tunku Abdul Rahman, Kampar, Perak, Malaysia
Dr. Yang Lee
Senior Scientist at Haskins Lab, Yale University, United States, Distinguish Professor at GNU South Korea
Sigmund Topor
Doctor of Philosophy in Education, Specialization in Post-Secondary and Adult Education, Capella University, Minneapolis, MN, U.S.A.

Ms. Yumiko Ishikawa
MSN, RN, PHN, Associate professor, Teikyo Heisei University, Faculty of Health Care and Medical Sports, School of Nursing, Tokyo, Japan
Dott. Tiziano Zanin
Vice Presidente AITIC – Associazione Italiana Tecnici di Laboratorio Biomedico, S.C. Laboratorio di Genetica Umana, E.O. Ospedale Galliera, Genova, Italy
Prof. Anil Kumar Indira Krishna
Technical Lead, Non-communicable Diseases, Help Age International, Myanmar
Yulia Kryvenko
Assistant Professor, Department of Social Work, Faculty of Health Sciences, Istanbul Zaim University, Turkey
 Dr Arzu Baloglu
Assistant Professor, Department Of Business Administration, Marmara University, Istanbul, Turkey and Part-Time Lecturer, Yeditepe University, Istanbul, Turkey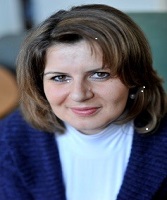 Dr. Habil Ágnes Csiszárik-Kocsir
Keleti Faculty of Business and Management, Óbuda University, Budapest, Hungary
Karthikayini Krishnasamy
Nursing Officer, University Malaya Medical Centre, Inpatient Service (Medical Wards), Kuala Lumpur, Malaysia
Dr Vigneswari Sevakumaran
Senior Lecturer School of Fundamental Science (PPSA), Universiti Malaysia Terengganu, Malaysia
Marion Hopfgartner
Speaker, Educationalist and Writer on educational & the TLI-Paedagogics, Vienna, Austria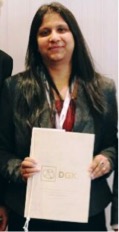 Affiliation: Researcher at the Max Planck Institute for Heart and Lung Research, Bad Nauheim, Germany
Prof. Erman Rajagukguk ( SH., L.L.M., Ph.D. Director of Postgraduate Study, Universitas Al Azhar Indonesia, Komplek Masjid Agung Al Azhar, Jakarta)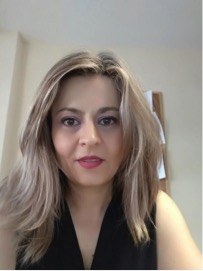 Vasiliki Kakosimou (Head officer of Regional Asylum Office (RAO) of Piraeus, Athens)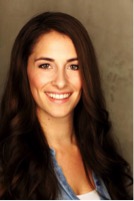 Annika Bush
(Research Assistant and Lecturer, Department of Science Education, Bielefeld)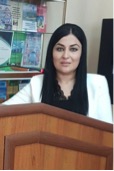 Svetlana S. Muradyan
(Lecturer & Chair of Special Pedagogy and Psychology of ASPU (after Kh. Abovyan), Armenia)
Dr. Made Indra Wijaya
M.D., M.H.A. Ph.D. (Medical Science)
Cyberjaya University College of Medical Sciences (CUCMS), Malaysia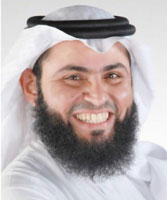 Abdulelah Mohammed Alhaidary
Clinical Nursing Director of Intensive Care Unit
Prince Sultan Military Medical City, Riyadh, Saudi Arabia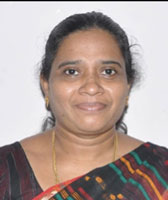 Priscilla Suresh
Department of Zoology, Bishop Heber College
Bharathidasan University, Tiruchirappalli, Tamil Nadu, India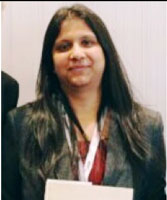 Dr. Swati Dabral
Max Planck Institute for Heart and Lung Research
Bad Nauheim, Germany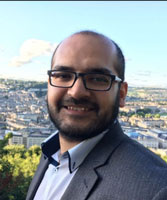 Haider Butt
School of Engineering, University of Birmingham
Birmingham B15 2TT, UK
Prof. Oranuch Ketsungnoen
Faculty of Medical Science Nakhon Ratchasima College, Thailand
Dr. Fawzi Mahomoodally
Associate Professor and Former head of Department at the Faculty of Science
University of Mauritius, Mauritius
Dr. Roberto Maniglio
Associate Professor of Clinical Psychology, Mercatorum University, Rome, Italy
Dr. Arif Hussain
Associate Professor, Manipal Academy of Higher Education, Dubai Campus, UAE
Prof. Roberto San Jose
Software and Modelling Group, Computer Science School
Technical University of Madrid (UPM), Madrid, Spain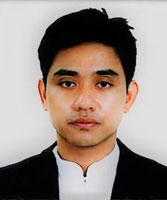 Joseph U. Almazan
Assistant Professor, Nursing Department, College of Applied Medical Sciences, Saudi Arabia
Professor Dr. Hjh. Norma Binti Alias
Ibnu Sina Institute For Fundamental Science Studies
Technology University of Malaysia, Skudai, Johor, Malaysia
Dr. Cecilia F. Junio-Sabio
Secretary and Associate Member of The National Research Council of the Philippines (NRCP)
Division 1, Philippines
Dr. (Ms) T. Theivasanthi
International Research Center, Kalasalingam University, Krishnankoil, India
Seetha Sagaran
Personal Development Trainer, Motivational Speaker, Lifestyle Consultant
Dubai, UAE
Dr. Declan Patrick
Subject Leader and Senior Lecturer in Dance
Liverpool Hope University, Liverpool, England
Prof. Anne C. Ihata
Department of Global Communication, Musashino University, Tokyo, Japan
Ahmad Raji Bin Yaakub
Chief Operating Officer, Irshad HR Consulting, Kuala Lumpur, Malaysia
Asst. Prof. Rommel V. Tabula
ESOL Specialist, Rajamangala University of Technology, Lanna Tak, Thailand
Prof. Victoria Time
Department of Sociology & Criminal Justice, Old Dominion University, United States
Dr Danielle Tran
BA, MA, PhD, SFHEA
Senior Lecturer in Learning, Teaching, and Professional Development
University of Greenwich, Educational Development Unit
London, United Kingdom
Assoc. Prof. Marek Matejun, PhD, DSc.
Department of Management, Faculty of Organization and Management
Lodz University of Technology, Poland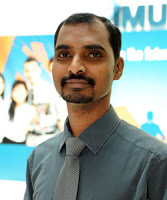 Dr Palanisamy Sivanandy
Department Of Pharmacy Practice, School Of Pharmacy,
International Medical University, Kuala Lumpur, Malaysia
El Kebir Abdelkader
Mustapha Stamboli University, Département of Electrical Engineering
Faculty of Technology, Mascara, Algeria
Marcela Ganea
Lecturer, ARTIFEX University of Bucharest, Romania
Freelance Journalist
Anam Shahid
Assistant Professor, Department of Academics, Faculty of Business Studies
Cromwell UK International Education, Ajman, UAE
Dr. Prasangani K.S.N.
Senior Lecturer, Department of English Language Teaching (DELT)
Faculty of Social Sciences & Languages, Sabaragamuwa University of Sri Lanka, Sri Lanka
Asli Hassan
Head of Center for Excellence in Learning and Teaching (CELT)
The Petroleum Institute, University & Research Center
Abu Dhabi, UAE
Mira Shenouda
University Honors College, University of Pittsburgh
Pennsylvania, United States of America
Dr. Cyaria Tongden Gurung
Department Of Botany, Siliguri College
University of North Bengal, India
Dr. Ma. Victoria Castillo- Magayon
Graduate School, University Of Santo Tomas, Philippines
Dr. Lauren B. Birney
Assistant Professor in the School of Education, Pace University, New York, USA
Dr Karen Pettit
Campus Director, Middlesex University Mauritius Branch Campus, Mauritius
Kristy Castleton
 Founder and MD of Rebel & Soul, Singapore
Dr Nicky Torrance
DProf, MSc, DipN, DipNEd, FHEA
Associate Director Academic
Middlesex Mauritius Branch Campus, Mauritius
Rohini A Mehta
Performance and Quality Improvement Director
Castle Family Health Clinics, California, USA
Dr Sorasak
Assistant Dean for International Affairs, Faculty of Administration and Management
King Mongkut's Institute of Technology, Ladkrabang, Thailand
Dr. P. Trinatha Rao
Department of Electronics and Communication Engineering
GITAM University, Hyderabad, India
Dr. Swaleha Peeroo
Department Of Management, Faculty of Business And Management,
University Des Mascareignes, Pamplemousses, Mauritius
Muna Balfaqeeh, Ph.D
Assistant Professor and Interim Chair of English and Communication
The Petroleum Institute: Part of Khalifa University for Science and Technology
Al Zafranah – Abu Dhabi – United Arab Emirates
Hwangji Lu
Department of Healthcare Administration and Informatics
Ashford University, San Diego, CA, USA
Dr. Iulia Para
West University of Timisoara,Timisoara, Romania
Prof. Kathy O'Sullivan
President, Global Partnerships at United Business Institutes
Brussels, Belgium
Dr. Zheng Xie
Lecturer in Electronic & Robotics Engineering, School of Engineering
University of Central Lancashire, Preston, Lancashire, England
Dr Betty Daniel
Secretary, Bethesda Mission, Bangalore, India
Dr. Jerome Banks
Assumption ABAC University, Bangkok, Thailand
Eva Harara
Public Health and Recreation Professions Department
Southern Illinois University, Chicago, U.S.A.
Dr. Jose Miguel Lemus
Modern Languages and Literatures, Creighton University, Omaha, Nebraska, USA
Asst. Prof. Dr. Nurkhamimi Zainuddin
Deputy Director
Global Open Access Learning, Immersive Technology and Quality Assurance
Universiti Sains Islam Malaysia (USIM), Malaysia
Dr. Joanna Bartnicka
Institute of Production Engineering, Silesian University of Technology, Poland
Elham Zakeri
School of Education, University of New South Wales, Sydney, Australia
Pompiliu Alexandru
Department of Political Sciences and Communication, Faculty of Political Sciences, Letters and Communication, Valahia University of Targoviste, Targoviste, Romania
Assoc. Prof. PhD. Dana Petranová
University of SS. Cyril and Methodius in Trnava, Solovakia
Dr. Deepak L. Waikar
Managing Partner, EduEnergy Consultants LLP, Singapore
Dr. Cheol Park
College of Global Business, Korea University, Sejong, Korea
Dr. Rhodora C. Mendoza
Director of International Affairs, Eastern Samar State University,
Borongan City, Eastern Samar, Philippines
                  Dr. Chen Wenli, Associate Professor, National Institute of Education, Singapore
Assoc. Prof. PhD. Slavomir Magal
University of SS. Cyril and Methodius in Trnava, Solovakia
Dr. Hajime Hirao
Department of Biology and Chemistry, City University of Hong Kong, Hong Kong, China
Assoc. Prof. Dr. Asan G. A. Muthalif
Department of Mechatronics Engineering,
International Islamic University Malaysia
Prof. Ana Nunes de Almeida
Investigadora Coordenadora, Research Professor
Instituto de Ciências Sociais, ULisboa, Lisbon, Portugal
Dr. Jillian Roberts
Associate Professor of Educational Psychology
University of Victoria, in British Columbia, Canada
Prof. Cecília R.C. Calado
High Institute of Engineering of Lisbon (ISEL-Instituto Superior de Engenharia de Lisboa
Rua Conselheiro Emídio Navarro, Lisboa, Portugal
Prof. Paulo Alexandre Gonçalves Piloto
Department of Applied Mechanics, Polytechnic Institute of Bragança , Bragança, Portugal
Thitima Thongrutkumpol, Faculty of Humanities and Social Sciences
St. Theresa International College, Nakorn Nayok, Thailand
Rossitsa M. Yalamova
Associate Professor, Finance, University of Lethbridge in Alberta, Canada
Dr. Simon Brownhill
Senior Teaching Associate, University of Cambridge, England
María de Lourdes Cuéllar Valcárcel
Centre of Foreign Languages, National Autonomous University of Mexico
Jan Horton Spence
Jan Spence & Associates
Intercoastal West Jacksonville, FL, United States
International speaker, Consultant, Trainer and Business coach
Assoc. Prof. Dr. Narongsak Noosorn, Associate Dean for Academic Affairs
Faculty of Public Health, Naresuan University, Phitsanulok, Thailand
Dr.-Ing. Ralph Hammann LEED A.P.
Thomas D. Hubbard Professor in Architecture
University of Illinois at Urbana-Champaign, Illinois, USA
Professor Baharuddin Aris
Dean, Faculty of Education, Universiti Teknologi Malaysia, Johor, Malaysia
Anoja Attanayake, Faculty of Medicine
University of Ruhuna, Galle, Sri Lanka
Sebahat Altundağ
Assistant Professor, Pamukkale University Faculty of Health Science,
Department of Pediatric Nursing, Denizli, Turkey
Randy Willoughby, Ph.D
Department Of Political Science, University Of San Diego, San Diego, California, USA
Prof. Fernando Albuquerque Costa
Institute of Education of the University of Lisbon, Portugal
Prof. Taramol.K.G.
Economics, Assistant Professor, School of Business, Manipal University Dubai, UAE
Assoc. Prof. Carlos A. Santos Silva
WS Energia Chair, Instituto Superior Técnico (IST), Technical University of Lisbon, Portugal
Hélio Vogas, Germany
Former President Of The Brazilian Peak Performance Institute
Certified NLP Practitioner, Hypnotherapist And Coach
Potjanee Kamolrat
Srinakharinwirot University International College for Sustainability Studies
Bangkok, Thailand
Nizar Abdul Majeed Kutty
Department of Physiotherapy at University Tunku Abdul Rahman, Malaysia
Mini Nanda
Department of English, University of Rajasthan, Jaipur, India
Prof. Eng. PhD. Marco Casini
Department of Urban Planning, Design and Architecture Technology
SAPIENZA University of Rome, Italy
Hetal Doshi – Suhana Daswani, O PSYCH Sdn Bhd, Malaysia
Registered Organizational Psychologist, Certified Professional Coach
Dr. Thanapauge Chamaratana, Lecturer and Chairman of PhD. Development Science Program
Department of Social Development, Khon Kaen University, Thailand
Dr. M Ichwan, General Physician
Faculty Member, Faculty of Medicine
Universitas Sumatera Utara, Medan, Indonesia
Dr. Abdelhak Senadjki, 
Assistant Professor of Economics at the Faculty
of Business and Finance, Universiti Tunku Abdul Rahman (UTAR), Malaysia
Dr. Sunildro Ls Akoijam
Assistant Professor, Department of Management
North-Eastern Hill University (NEHU), Tura Campus, Tura, Meghalaya, India
Benjapol Worasuwannarak
The Airline Business Lecturer, International College
Suan Sunandha Rajabhat University, Bangkok, Thailand
Dr. Kumar Laxman, Associate Professor, University of Auckland
Faculty of Education, School of Curriculum and Pedagogy, New Zealand
Amirhossein Taghipour
Researcher at Custom Asia, Bangkok, Thailand
Ilker Yengin (PhD), National Agency for Science, Technology
and Research (A*Star) \ Institute of High Performance Computing (IHPC) – Singapore
Subrata Chattopadhyay, RWTH Aachen University, Germany
Dr. Md. Eaqub Ali
Associate Professor of Nano-Biotechnology in the University of Malaya, Kuala Lumpur, Malaysia
Dr. Andrew Laghos
Assistant Professor, Department of Multimedia and Graphic Arts
Cyprus University of Technology, Cyprus
Dr Babasaheb M More, Associate Professor, Brahmadevdada Mane
Institute of Technology, Solapur, India
Dr. R. Prasada Rao, Researcher
Department of Materials Science and Engineering, National University of Singapore
Dr. M.V. Reddy, Department
of Materials Science & Engineering and Physics,  National University of Singapore
Dr. Mamun, Visiting Scholar at the School of Quantitative Sciences
Universiti Utara Malaysia (UUM), Malaysia, 
BRAC Business School, BRAC University, Bangladesh 
Dr Md Saidin Wahab, Acting Director Of Institute, Integrated Engineering,  Universiti Tun Hussein
Onn, Malaysia
Dr. Mohd Faisal Bin Hushim, Department Of Plant And Automotive
Engineering, Faculty Of Mechanical And Manufacturing Engineering,
Universiti Tun Hussein Onn Malaysia, 86400 Parit Raja, Batu Pahat, Johor,
Malaysia
Dr. Vish Kallimani, Associate Professor Of Computer
Engineering, University Technology Petronas, Tronoh,
Malaysia
Dr. Ahmed H. A. Dabwan, Senior Lecturer, Tati University College,
Malaysia
Dr. Mustafa Gunduz, Yildiz Technical University, Istanbul,
Turkey
Dr. Syarip Hidayat
Indonesia University of Education/ Universitas Pendidikan Indonesia
UPI Bandung, Indonesia
Navid Mollaee, University Lecturer Management Consultant, Iran
Dr. Rachappa I. Ingalalli, M.A., Ph.D; D.Sc.
Professor of Philosophy (Retired)
Former Dean, Faculty of Social Science,
Karnataka University, Dharwad, India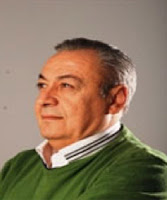 Prof. Dr. Ugur Demiray, Professor, Anadolu University,
Eskisehir, Turkey
Dr. Fahmida Khan, Department Of Chemistry, National Institute Of
Technology, Raipur, Chhattisgarh,
India
Professor Neelam Tikkha, MMV, RTMN Nagpur University, Nagpur,
Maharashtra, India
David Goldsmith, Founder And Chief Executive, Andean Medical
Mission, London
Dr. Kaviraj Sukon, Director-General,  Open University Of
Mauritius, Mauritius
Dr. Mohammad Bin Ismail, Faculty Of Civil Engineering, Universiti
Teknologi Malaysia, Malaysia
Ah Yusuf, Faculty Of Nursing Airlangga University, Surabaya,
Indonesia
Branislav Radeljic, Associate Professor Of International Politics,
Social Sciences International Representative, School Of Social Sciences,
University Of East London, London
Prof. Sibin Wu, Chair Of Department Of Management, College Of Business
And Entrepreneurship, University Of Texas – Rio Grande Valley, U.S of America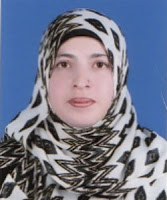 Dr. Rabia Imran, Assistant Professor, Dhofar University, Salalah,
Oman
Farhad Memarzadeh, Director; Division Of Technical Resource,
National Institutes Of Health, USA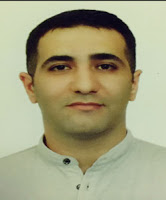 Ali Ghalehban
Assumption University of Thailand , Faculty of Science and Technology, Bangkok, Thailand
Prof. Puneet Sharma, Registrar And Dean Academics, Rajdhani Engineering
College, Jaipur, India
Pran Siamwalla, President, Disaster  Prevention
Industry, Bangkok, Thailand
Arash Groyan, Designer, Painter, Iranian Miniaturist Painter, Bangkok, Thailand
Dr Alyson Mcgee Senior Lecturer,  Institute Of Education,
Massey University, New Zealand
Dr. Yousr Gadhoum, Dean, Research Development, Prince Mohammad Bin
Fahd University, Dammam, KSA, Saudi Arabia
Dr. Kageeporn Wongpreedee, Department Of General Science, Faculty
Of Science, Srinakharinwirot University, Sukumvit 23, Wattana, Bangkok, Thailand
Dr. Porngarm Saengratwatchara, Department Of Hospitality And Tourism,
International College For Sustainability Studies, Srinakharinwirot
University, Sukumvit 23, Wattana, Bangkok,
Thailand
Rakesh Biswas, Founder And Chairman, Iysert Energy Research
Private Limited, International Youth Society Of Eco Friendly And Renewable
Technology, India
Dr. Shahryar Sorooshian, Senior Lecturer (Coordinator Of Research
Clusters And Faculty Publications) Faculty Of Industrial Management University
Of Malaysia Pahang, Malaysia
Navidreza Ahadi, Institute Of International
Studies, Ramkhamhaeng University, King Mongkut's Institute Of
Technology, Ladkrabang Bangkok, Thailand
Dr. Arif Jawaid, Director, Centre For Modern
Languages, Communication At Linton University College, Negeri
Sembilan, Malaysia
Dr. Ch. Rupa, Deptt. Of Computer Science & Engg. VR Siddhartha Engineering College (autonomous), Affiliated to
JNTUK, Vijayawada, AP, India
Dr. Ramani Bai Varadharajan, Associate Professor And Head Of
School,School Of Civil Engineering, Linton University College, KTG Education
Group, Butl, Mile 12, 71700 Mantin, Negeri Sembilan, West
Malaysia
Preeya POOPICHAYAPONGSE
International college for Sustainability Studies, Srinakharinwirot University, Bangkok, Thailand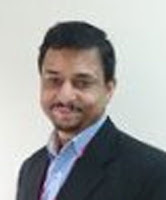 Dr. Syriac Nellikunnel Devasia, INTI University, Nilai, Malaysia
Dr. K. Ravichandran, Associate Professor & Director Of
Experiential Learning,School Of Management New York Institute Of Technology
Cert Technology Park, Al Murror Road, Abudhabi, UAE
Rita T. Abdulmunam Aljadiri, Senior Lecturer, Middlesex
University, UAE
Dr. Vikas Bhatia, Dean, Professor And Head Community
& Family Medicine, India
Dr. Nemia C. Mallari, Polytechnic University, Philippines-
Bataan Branch,  Philippines
Omolayo, Benjamin Oluwabunmi, Federal University, Oye-Ekiti, Ekiti
State, Nigeria
Dr. Dahlia Romero Doming, New Era University, Philippines
Heutchou Charles, General Manager, Georgetown Education Cameroon,
Cameroon
Dr. Muhammad Nasir Khan, Department Of Education,University Of Vienna, Vienna
(Austria), Austria
Nabhit Kapur, Psychologist, Psycho-Therapist And Psychometric
Analyst, Peacful Mind Foundation, New Delhi, India
Rishi Beriwala, Co-Ordinator And Assistant
Graphologist,  Peacful Mind Foundation, New
Delhi, India
Dr. T. Ramanathan, Faculty Of Marine Sciences Annamalai University, Tamil Nadu, India
Prof (Dr.) Shreekant Tare, Principal and Professor In
Mechanical Engineering, University College In Central, India
Dr. Saad Sabbar Dahham, School Of Pharmaceutical Sciences,
Universiti Sains Malaysia, Pinang, Malaysia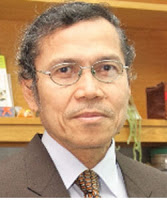 Prof. A.J. Halim, Lincoln University College, Petaling
Jaya, Malaysia
Prof. R Subramaniam, National Institute Of Education, Nanyang
Technological University, Singapore
Dr. Jing Yan, Department Of Advanced Organic Materials And Textile
System Engineering, Chungnam National University, Republic Of Korea, Korea
Satyanarayana Vollala, Department Of Computer Science And
Engineering National Institute Of Technology, Tiruchirappalli, Tamil
Nadu,  India
Ailson De Moraes, Royal Holloway, University Of London, UK
Dr. Harsha Agarwal, Psychologist & Director, Peacful Mind
Foundation, Delhi, India
Dr. Vivian Iglesia-Buhain, CLS Director, New Era University,
Philippines
Prof. M. Aminur Rahman, Institute Of Bioscience, Universiti Putra
Malaysia, 43400 Upm Serdang, Selangor, Malaysia
Dr. Nader Ale Ebrahim, Research Support Unit, Centre For Research
Services, Institute Of Research Management And Monitoring (IPPP), University Of
Malaya, Malaysia
Dr David Harris-Birtill, School Of Computer Science, University Of
St Andrews, Scotland, UK
Lee Ming-Yen, Department Of Chinese Music, National Taiwan
University Of Arts, Taipei, Taiwan
Saman Khaksefidi, Higher Educational Complex Of Saravan,
Iran
Dr. Mohamed Arezki Mellal, LMSS, Faculty Of Engineering Sciences
(FSI), M'hamed Bougara University, Algeria
Natalia Muñoz Acevedo, Motorcycle Traveler, Universidad De
Valparaíso, Chile
Dr. Ambresh P Ambalgi, Assistant Professor, Dept. of P.G. Studies
& Research in Electronics, Mangalore University, Mangaluru. 574199. Karnataka,
India
Prof. Ralph Wrobel, West Saxon University Of Applied Sciences, Zwickau,
Germany
Dr. Sharita Bharuthram, Department Of English, Faculty Of Arts,
University Of The Western Cape, Cape Town, South
Africa
Dr. Padmaja Venkatesh, Mysore University, Karnataka,
India
Dr. Pravesh Kumar Srivastava, Department Of Archaeology,
Banaras Hindu University (BHU), Varanasi, India
Dalal Abud Alrhman Ahmed Bahanshal, Aberdeen University, UK
Dr. Nirmala Menikpura, Sustainable Consumption And Production (SCP)
Group, Institute For Global Environmental Strategies (IGES), 2108-11
Kamiyamaguchi, Hayama, Kanagawa 240-0115, Japan
Dr. Kakasaheb Chandrakant Mohite, CT Bora College, Shirur, Dist-
Pune, Maharastra, India
Prof. (Dr.) Yog Raj Sood, Department of Electrical Engineering
& Dean (Planning & Development), National Institute of Technology,
Hamirpur (H.P.), India
Bilal Al-Jaidi, Department Of Pharmaceutical Sciences, Faculty Of
Pharmacy, Philadelphia University,
Jordan
Dr. Azilawati Jamaludin, Research Scientist, National Institute Of
Education, 1 Nanyang Walk, Singapore
Yoshiko Yamaguchi, Faculty Of Nursing, Kwassui Women's University,
Japan
Dr. Ambalika Sinha, MNNIT, Allahabad, India
Prof. (Dr.) U. C. Jha, Director, RIET, G. Noida, India
Former Director, CII Technology Centre, Indore, (MP), India
Dr. Patricia Lorenz, University Of Freiburg, Germany
Dr Sandeep Narayan Kundu, National University Of Singapore (NUS),
Singapore
Dr. Rakhi Gupta, Faculty of Commerce, Banaras Hindu University,
Varanasi, Uttar Pradesh, India
Dr. Arjoon Suddhoo, National Laureate, Executive Director of
Mauritius Research Council, Mauritius
Dr. Iman Farshchi, Head of School, School of Civil,
Engineering, Linton University College, Malaysia
Dr. Sunny Joseph Kalayathankal, H.O.D. & Associate Professor,
Department of Mathematics, K. E. College, Mannanam, Kottayam, India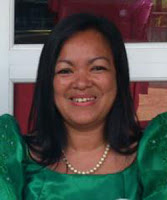 Dr. Mia Torres-Dela Cruz, Lecturer, School Of Computer
Science, Information Technology, Linton University College, Malaysia
Prof. Dr. Gurumurthy Hegde, Faculty of Industrial Scainces
and Technology, University Malaysia Pahang, Malaysia
Dr. P. Sujatha, Assistant Professor, Department of English
at Kongu Nadu Arts and Science College, Tamil Nadu, India
Dr Jehangir Bharucha, H R College of Commerce and Economics,
Mumbai, India
Dr. Gnanaprakasam Chinnappan, School of Accounting and
Finance, KTG Education Group, Mantin, Negeri Sembilan, Malaysia
Dr. Agila Govindarajan, Associate Professor – KTG Education
Group, Mantin, Negeri Sembilan, Malaysia
Dr Lakhwinder Pal Singh, Department of Industrial and
Production Engineering, Dr B R Ambedkar National Institute of Technology, Jalandhar,
India
Dr. Shakil Akhtar,
Professor, CS/IT Department,
Clayton State University, Morrow, Ohio, USA
Prof. Varijakshi Prabhakaran, Northern Lakes
College, Slave Lake, Canada 
Dr. Abdul Kayoom.V, Department of English, Pondicherry Central University, Government
of India, India
Dr. Krishnadas Nanath, Middlesex University Dubai, Dubai –
United Arab Emirates
MD. Shamim Hossain,
Department of Integrative Physiology, Kyushu University, Graduate School of Medical
Sciences, Japan
Prof. Sam Salem, Department
Chair, Civil and Environmental Engineering
Department, A. Yabroudi Endowed Chair Professor of Sustainable Civil
Infrastructures, Syracuse University College of Engineering and Computer
Science, United States of America

Dr Hiroshi Hasegawa, Senior Lecturer, School
of Education, Curtin University , Western Australia
Dr. Manoj Sahni, Department of Mathematics and Computer Science
Pandit Deendayal Petroleum University, Gandhinagar, Gujarat, India

Prof. Mohd Nazri Bin Latiff Azmi, Dean,
Faculty of Languages and Communication, Universiti Sultan Zainal Abidin,
Malaysia
Dr Noor Hanim Rahmat,Academy of Language Studies, Universiti
Teknologi MARA 40100, Shah Alam, Malaysia
Sampath Emani, Research Scholar Universiti Teknologi Petronas, Malaysia
Prof. Safary Wa-Mbaleka, AIIAS, Lalaan I, Silang, Cavite
4118, Philippines
Dr Muharrem Karaaslan, Ph.D. Physics Department from the University of Cukurova,
Adana, Turkey
Dr Upasana Singh, Lecturer, Discipline of Information Systems and
Technology at UKZN, Westville Campus, South Africa
Dr. Nirmaljit K Rathee, Associate Professor
Acting Director – Graduate Programs, Education Department, Delaware State University, Dover, USA
Dr. N B Jubani, Professor of Education and Dean Faculty of Social Sciences
International Islamic University, Islamabad, Pakistan
Professor M. Adlim, Dean for Faculty of Marine and Fishery
Chemistry Department, Syiah Kuala University, Aceh, Indonesia
Ailson J. De Moares, Lecturer in Strategy and Business at Royal Holloway, University of London
London, UK
Prof. Pedro Manuel Brito da Silva 
Girão, Instituto Superior 
Técnico – Ulisboa/IT, Lisbon, Portugal
Dr. Anup Ghimire, School of Public Health and Community Medicine
B P Koirala Institute of Health Sciences, Dharan, Nepal
Dr. Manotar Tampubolon, Universitas Pelita Harapan, Jakarta, Bekasi, Indonesia
Dr. V Rajasekaran, Asst. Professor of English & Assistant Director – Students Welfare
VIT University, Chennai Campus, Tamil Nadu, India
Dr. Ghulam Ali Mallah, Professor/ Chairman, Department of Teacher Education
Shah Abdul Latif University, Khairpur, Pakistan